Circuit design is an essential part of modern technology, and creating circuit diagrams is a crucial step in the process. Whether you're designing circuits for personal or professional use, having the right software tools can make all the difference. With so many circuit diagram software options available, knowing which one to choose can be quite challenging and problematic. Keeping that in mind, our team of experts has created an extensive list of circuit maker tools to help beginners and professionals create highly complex circuit diagrams.
Our top picks for the best circuit diagram software include free and paid options with unique features. These software tools are ideal for creating complex circuits quickly and easily, with intuitive interfaces that make the design process a breeze. From schematic capture to PCB layout, our top 5 circuit diagram software tools have you covered.
Whether you're a student, a beginner in an organization, or an experienced circuit designer, our software picks will help you create high-quality circuit diagrams in less time. So, let's check out the best circuit diagram makers available on the market today.
EdrawMax
When it comes to creating circuit diagrams with ease, EdrawMax is your go-to circuit maker. This professional diagramming tool is equipped with an abundance of features that makes creating circuit diagrams not only easy but fun too.
EdrawMax is one such circuit diagram software that comes with 800+ electrical symbols and elements. All of these electrical symbols are of universal standard, and since they are in vector format, they are completely editable. From capacitors to switches or relays, one can find all the common electrical components that are required to create a highly functional circuit diagram.
If you have never created a circuit diagram, then you are here for a treat! EdrawMax comes with circuit diagram templates that help you get started.
From ready-made templates to electrical components, this circuit diagram maker offers everything you might be looking for in a professional circuit maker, like CAD, but at a very reasonable price and a user-friendly interface that helps students and novices create circuit diagrams in no time.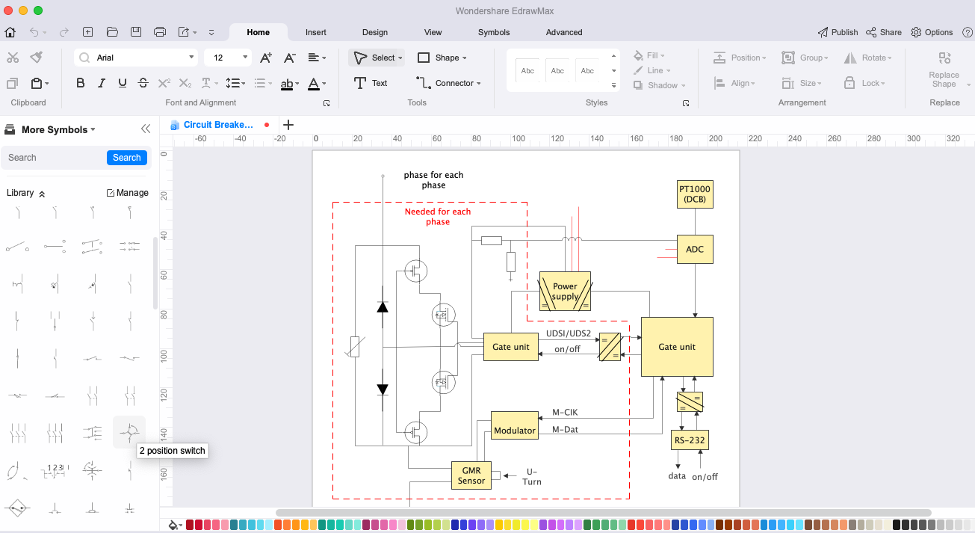 Features
Fully customizable circuit diagram templates with a wide range of formatting options.
Online collaboration with team members from anywhere.
Free trial and free version available for all users.
Over 25,000 pre-designed symbols to choose for creating circuit diagrams.
Limitations
Lack of 3D options in diagram creation.
Too many features may be overwhelming for some users.
Pricing:
Free Plan Available
Subscription Plan: $99/year
Lifetime Plan: $198/year
Website: https://edrawmax.wondershare.com/
Verdict: EdrawMax is an excellent choice for beginners starting with circuit diagram software. With its free templates, intuitive interface, and full customer support, you can quickly create high-quality circuit diagrams, even with little to no tech knowledge. Whether you're overlooking a small project with no tech experience or a more complex circuit design, EdrawMax has everything you need to get started.
Altium
Altium offers DFM (Design for Manufacturing) validated outputs, which means that designs created using the software are optimized for manufacturability. It significantly reduces the risk of errors and improves the overall quality of the final product.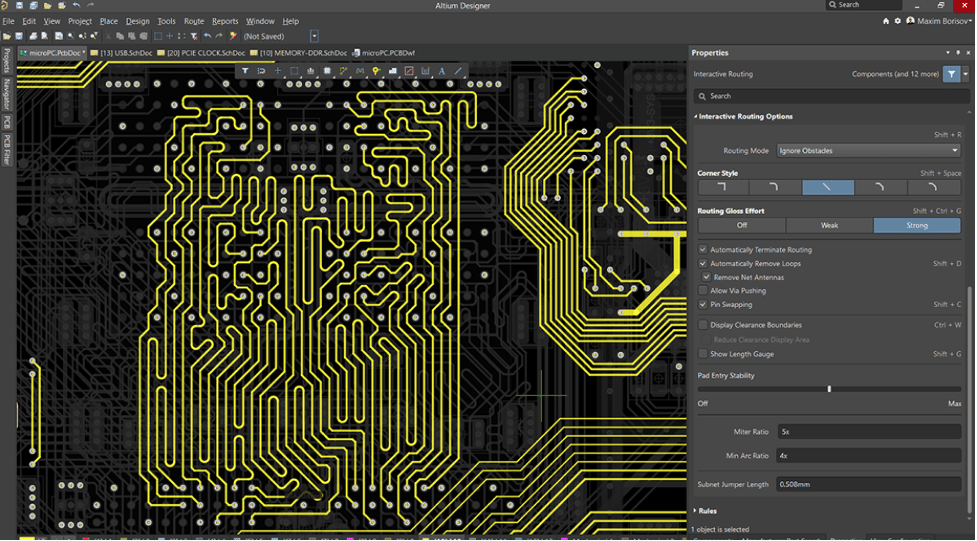 Altium is an excellent electronics design software with powerful tools and features for creating high-quality PCBs. Its Altium Native 3D technology, push-n-shove routing, multi-sheet schematic editor, topological autoroute, and DFM-validated outputs make it a top choice for professionals who demand the best.
Features
Altium Native 3D technology for creating complex designs with ease
Push-n-shove routing for fast and efficient routing of PCBs
Multi-sheet schematic editor for working on large, complex projects
Topological auto-router for optimized design efficiency
Limitations
Expensive for beginners, with Altium Designer costing $4,650 for a year.
Requires technical knowledge to use.
Limited to certain diagram types.
Difficult customization options for users.
Pricing:
Term-Based License: $4,650/year
Perpetual License: Starts at $10,000
Website: https://www.altium.com/altium-designer
Verdict: Altium is a powerful PCB design software that excels in creating complex designs with ease using its native 3D technology and topological auto-router. However, Altium can be expensive for beginners at $4,650 a year and requires technical knowledge to use.
CircuitMaker
CircuitMaker is a free, community-driven software for electronic design automation (EDA). One of the most significant advantages of this software is that it is free to use, making it accessible to anyone interested in electronics. CircuitMaker is supported by the Altium 365 platform, which allows users to collaborate and share their designs with other users seamlessly.
The software comes with a massive component library, providing users with a wide variety of components to choose from, making it easier to create accurate schematics. Additionally, CircuitMaker comes with Situs™ topological autoroute, which provides users with an intelligent tool for routing traces. The Situs™ topological auto-router can route circuits of any complexity, saving users time and effort.
CircuitMaker also has an easy-to-use schematic editor, making it easier for beginners to design electronic circuits without prior experience. Users can choose to generate Gerber and NC Drill files or ODB++ files, or both, making it easier to manufacture PCBs.
Features
Unlimited access & free to use.
Large component library with over 350,000 parts.
Support for Altium 365 platform to share projects and collaborate.
Situs™ topological auto-router for easy routing.
Limitations
The simulation capabilities of CircuitMaker are limited compared to other simulation software.
The ODB++ export feature is not included in the free version of CircuitMaker.
The file import and export options in CircuitMaker are limited compared to other similar software.
Pricing: Free
Website: https://circuitmaker.com/
Verdict: CircuitMaker is a fantastic option for those on a budget as it provides unlimited free access to its software. However, the simulation capabilities are limited compared to other simulation software, and the ODB++ export feature is not included in the free version.
KiCad
KiCad is a free, open-source circuit software suite for electronic design automation (EDA). With over 25 years of development, KiCad has become popular among hobbyists, makers, and professionals. KiCad provides a comprehensive set of tools for designing printed circuit boards (PCBs) and schematics, making it an ideal choice for all those users who want to create their own electronic projects.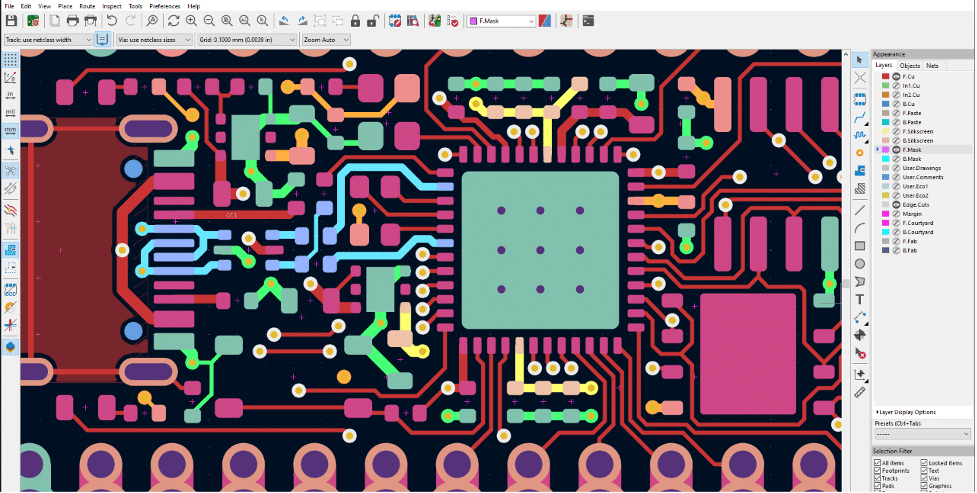 KiCad is a cross-platform application available with Windows, macOS, and Linux, and it is designed to be user-friendly with an intuitive interface. It further offers a wide range of features, including schematic capture, PCB layout, 3D visualization, and bill of materials (BOM) generation. It also includes a built-in library editor allowing users to create and manage personalized component libraries.
Features
Cross-platform availability on Windows, macOS, and Linux.
Free and open-source software.
It has an integrated environment for schematic capture, PCB layout, and viewing manufacturing files.
Ngspice-provided SPICE simulation.
Limitations
The export interface is not very user-friendly.
Adding icons and images to the PCB can be a complicated process.
KiCad can run slowly on low-end hardware.
Managing footprints can be challenging.
Pricing: Free
Website: https://www.kicad.org/
Verdict: KiCad is a great option for those looking for free, open-source software that is cross-platform compatible on Windows, macOS, and Linux. However, it does have its limitations, including a not-so-user-friendly export interface and the complicated process of adding icons.
Lucidchart
"Lucidchart is a powerful online diagramming tool that provides an intuitive and easy-to-use interface for designing professional circuit diagrams," says a technology expert.
Lucidchart offers a range of features that make it an attractive choice for creating circuit diagrams. It offers a vast library of shapes and symbols, including a wide range of electronic and electrical components, allowing users to easily create complex diagrams.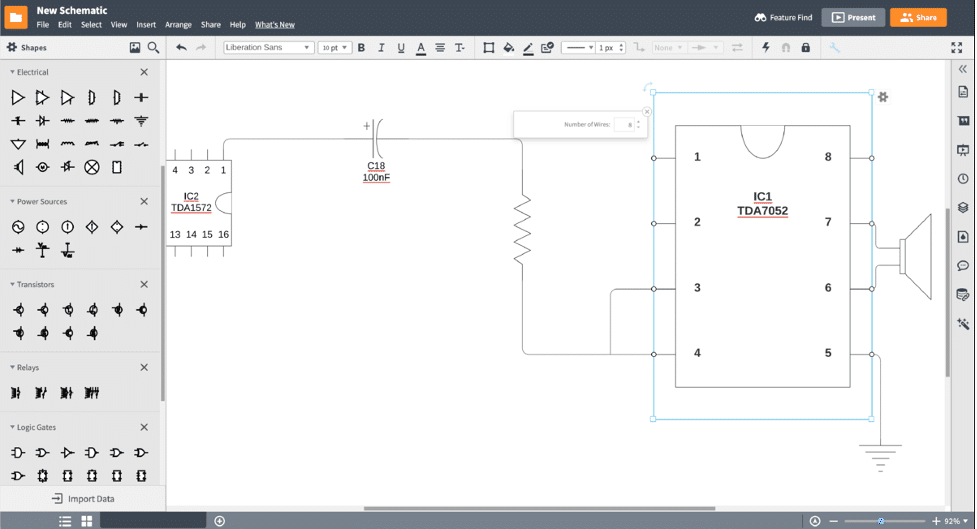 In addition, Lucidchart offers the ability to import files from other diagramming software, such as Visio, Gliffy, draw.io, and OmniGraffle, making it easier for users to switch to Lucidchart without losing their previous work.
Features
Cloud-based diagramming
Dozens of industry-standard symbols
Thousands of customizable templates
Integration with Salesforce, AWS, Slack, Okta, Atlassian, and more
Limitations
Limited free version with fewer features
Complex diagrams can be difficult to create
Limited customization options
No desktop version is available, which can be difficult for various team members.
Pricing:
Free Plan
Individual Plan: $7.95 per month
Team Plan: $9.00/user
Website: https://lucid.app
Verdict: Lucidchart is an excellent circuit diagram software with dozens of industry-standard symbols and thousands of customizable templates. However, the free version has limited features, and creating complex diagrams can be challenging.
Conclusion
We have discussed five popular circuit diagram software programs: EdrawMax, Altium, CircuitMaker, Lucidchart, and KiCad. Each of these top circuit diagram software has unique offers, features, and limitations, making them suitable for different types of users with varying skill levels, budget constraints, and specific requirements.
EdrawMax stands out for its ease of use, a wide range of diagram types, and extensive library of templates and symbols. Altium offers advanced features such as native 3D technology, push-n-shove routing, and topological auto-routing. CircuitMaker is free to use and supported by the Altium 365 platform, offering an easy-to-use schematic editor, Situs topological autoroute, and one-click manufacturing.
While these programs have many impressive features, they also have their limitations, such as cost, technical knowledge requirements, limited support, and slow performance. It is important for users to carefully evaluate their specific needs and skill level to select the software that best suits their requirements. These circuit diagram software programs, like EdrawMax, offer a range of powerful tools that can help engineers and hobbyists easily create complex circuits and schematics.

Angela Spearman is a journalist at EzineMark who enjoys writing about the latest trending technology and business news.