Dealing with leaves in the autumn months can prove a tiresome hassle for any keen gardener wanting to preserve the well-designed space they have grown in the spring and summer. However, there are many benefits to tackling this problem head on, from simply helping to keep your garden looking its best, to vastly improving planting in the warmer months. In this article, we will outline different methods of dealing with fallen leaves, how you can use them in future planting projects, and how to maintain your outdoor environment even as the weather gets harsher. Let's take a look…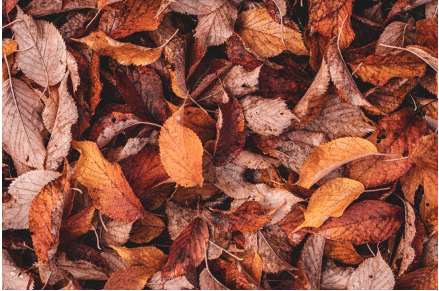 Clearing
What happens if you leave fallen leaves on your garden? The quick answer is nothing much; the leaves will slowly start to decompose into the soil. However, they can be unsightly, especially if you are aiming for a well cultivated, attractive garden space. On top of this, wet, rotting leaves can be incredibly slippery, and therefore may need to be raked up to prevent any falls, which may prove serious on a hard surface, such as patio slabs.
Thankfully, clearing a garden of leaves is an incredibly easy thing to do, with them only needing a quick sweep or rake over to remove them from your space. Even better – use an electric hand blower. Additionally, there are preventative measures that will significantly decrease the number of trips and falls. These include investing in slip resistant composite decking, which is specifically designed to cope with increased footfall.
Soil Conditioner
If you do not want to spend time raking and sweeping away leaves from your garden space, you can instead use a lawnmower, shredding them into small pieces. These shredded leaves are obviously biodegradable, and the smaller pieces will make them less likely to cause slipping. Spread these shredded leaves over your lawn or cover them in soil.
Shredded leaves are a great free, easy to make natural soil conditioner, and can help your soil retain moisture, improving its overall quality. You can then use this mulch, or leaf mould, as fertiliser for future composting.
Collect and Reuse
As stated, the great thing about fallen leaves is that they will work perfectly as a form of natural fertiliser. If you are someone who does not want the added task of spreading shredded leaves all over your lawn, you can instead simply collect them. After sweeping and raking them away, store them for use in spring and summer, using either a wire mesh or wooden palette bin to allow the leaves to fully decompose.
Leaf mould is most effective when it has been allowed a significant time to decompose properly, around 6 to 12 months. Once the weather becomes slightly dryer and warmer, you can use your stored leaves as a natural, organic compost. Properly broken-down leaf mould will significantly improve the quality of your soil, providing nutrients for further planting.
To conclude, collecting, reusing, and storing your leaves effectively has many benefits, and can improve your garden significantly both in the winter and summer months. Visually, simply tidying up your leaves can make your space a more welcoming, inviting space that you can make more use of in the colder weather. Practically, fallen leaves are a free natural fertiliser that should not be ignored by any keen gardeners. We hope this article has given you more scope as to what properly looking after leaves can do to enrich your garden.

Angela Spearman is a journalist at EzineMark who enjoys writing about the latest trending technology and business news.