It's 2021 and mobile phones have long come from luxury items to must-have tools. Even your kids need a dedicated computing device to join Google Meet calls, get online homework, stay in touch with other students, and more. It's more important than ever to keep track of your little one's browsing activity and apps usage. Here is where parental control apps like Wondershare's FamiSafe come in to deliver excellent parental control tools to users.
Since the web is filled with inappropriate content, misguided websites, fake advertising banners to lure readers, you are unknowingly exposing your kids to harmful content. Don't worry though. Using parental control apps, you can easily block certain websites and apps on iPhone or iPad.
Why Do You Need Parental Control App?
The web, as we know, has changed dramatically over the last few years. Along with original, useful, and relevant content, it is also filled with misinformation, bogus trackers, and inappropriate content.
It's not easy for your kid to differentiate among them and he/she might be consuming fake and irrelevant news behind your back. You can easily go ahead and apply breaks to this behavior by blocking websites on iPhone or iPad.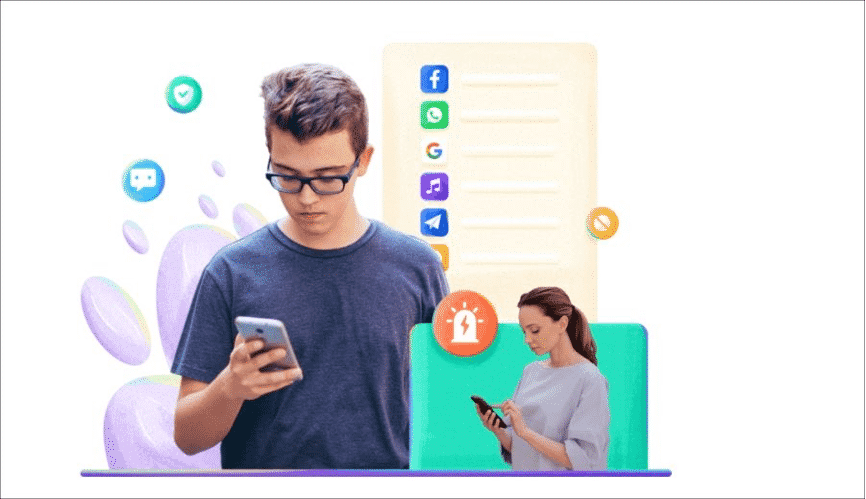 Another worrisome growing trend is in terms of apps/game usage. You must have noticed your little one spending an unhealthy amount of hours on apps or games. While Apple and Google have introduced tools to reduce growing smartphone usage, they still leave a lot to desire.
Wondershare's FamiSafe takes the step further and allows users to completely restrict apps on iPhone or iPad.
Now that you know why you need a parental control app, like Famisafe, check the guide below to learn how to block websites on iPhone.
How to Block Websites and Apps on Kid's Mobile Phone with Famisafe
Get Wondershare Famisafe for iPhone or Android on your phone and Famisafe Jr app on your child's phone.
Sign up for a FamiSafe account and it will ask who is going to use this phone.
2. Select Parent and it will take you to the home screen to tap on Connect A New Device. 
3. On your kid's phone, open the FamiSafe Jr app and tap the Pair with Code button. 
4. Use the displayed pairing code and finish the setup process on your kid's device.
When setting up your kid's iPhone, you might be asked to manually activate the iOS profile to allow FamiSafe to monitor, control, and protect the device.
5. Tap on Install iOS profile and it will open the default browser on iPhone to download the profile.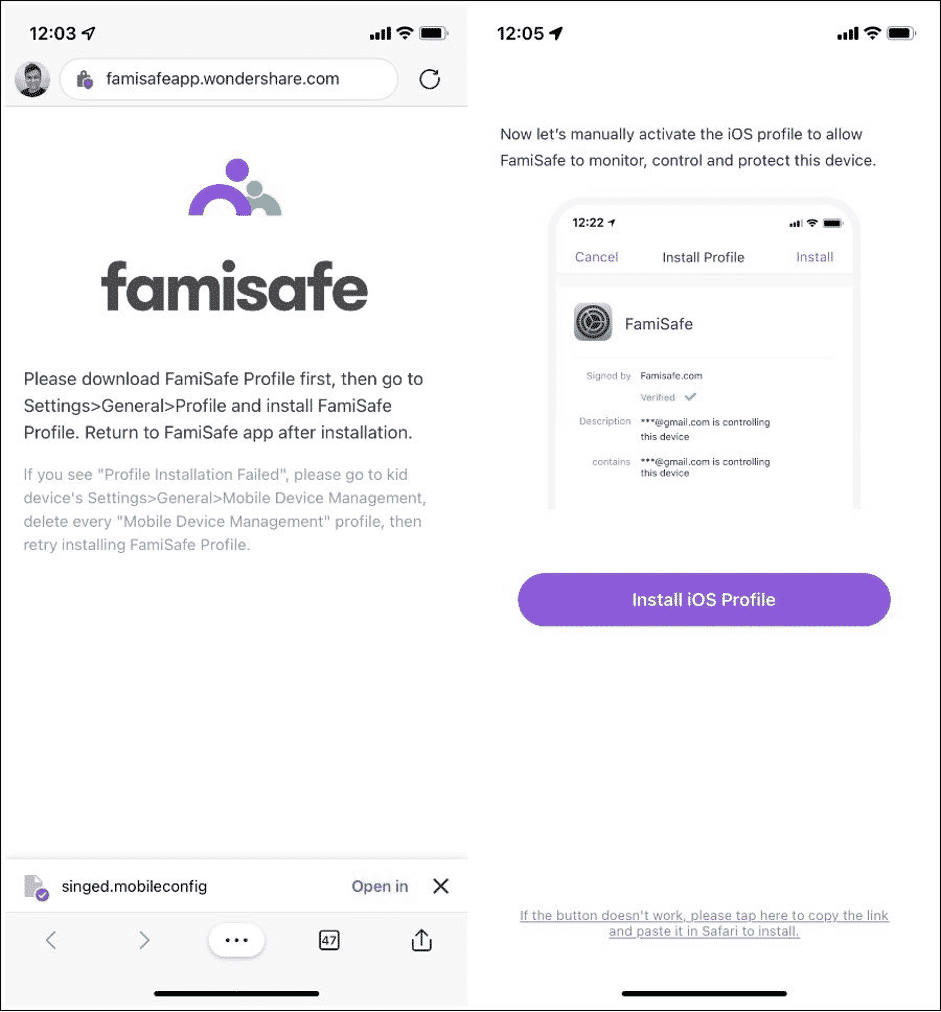 Follow on-screen instructions and install the iOS profile on your kid's device.
Once everything is set up, you are all set to block websites and apps on your kid's mobile phone.
Now you are all set to block apps and websites on your kid's phone. Go through the steps below to make relevant changes.
1. Open the FamiSafe app on your phone and move to the Features tab at the bottom. 
2. Select the App Blocker tab at the top and tap on No block. 
3. Block apps based on age and tap on Set a period to block at the bottom.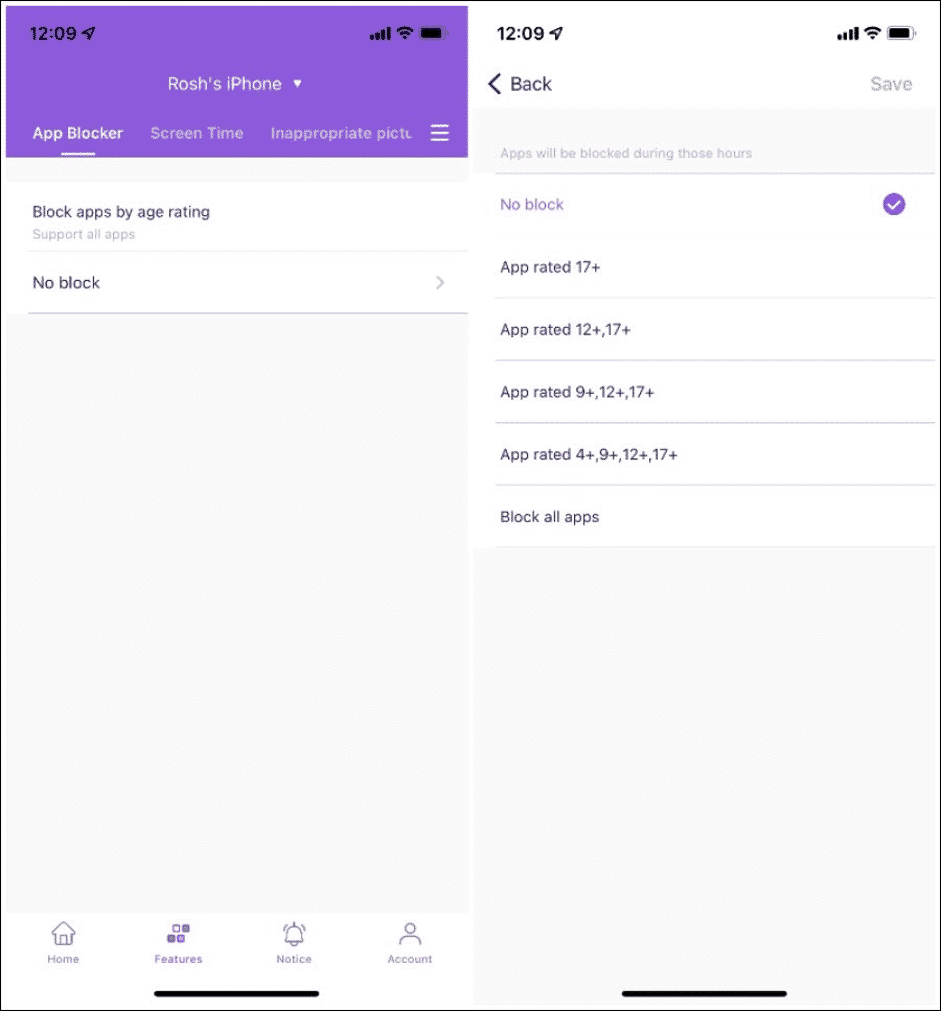 4. Select a specific timeframe to block apps usage on a kid's phone.
5. Hit Save at the top and you are good to go. 
6. Now scroll horizontally to Web Filter from the top menu. 
7. Make sure to enable relevant categories such as Adult, Drugs, Weapons, Crime & Death, and more.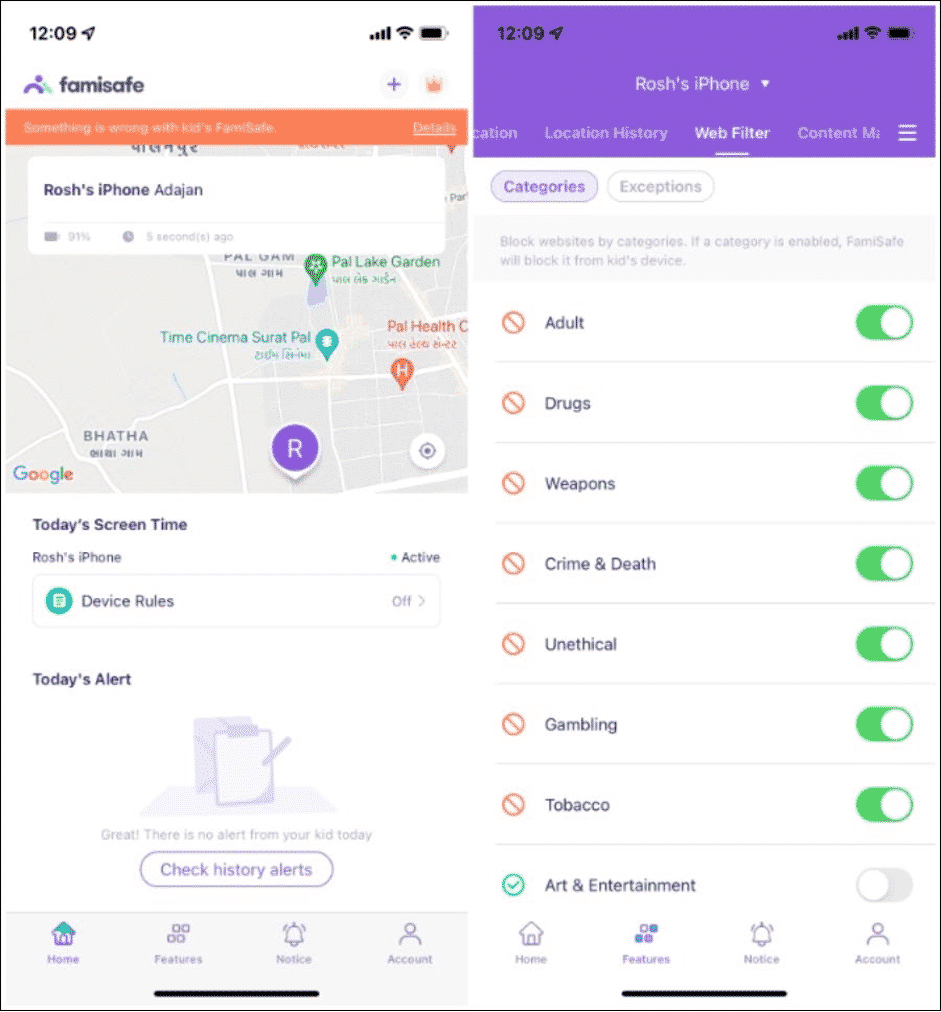 From the Exceptions menu, you can let your kids access specific websites from the category.
FamiSafe isn't limited to restricting websites and apps on your kid's phone. It offers other powerful parental control tools as well. Let's check them out in detail.
FamiSafe Features
We have already mentioned how to block apps and websites on a kid's iPhone. Now, let us show you other goodies that come with the FamiSafe parental control app.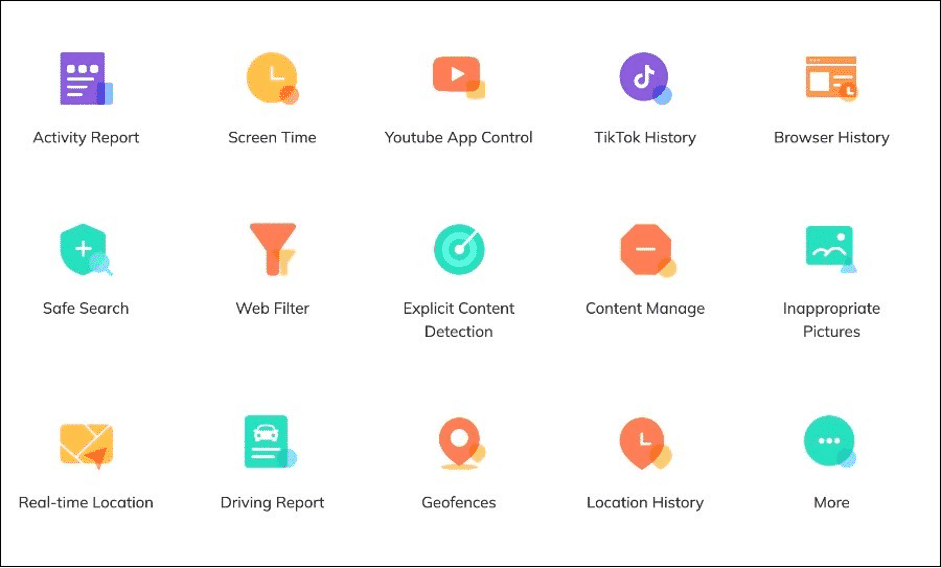 Restrict Screen Time
From the Screen Time menu in FamiSafe, you can add a screen time limit to your kid's phone. From the allowed screen time, you can specify which apps are allowed to use during the timeframe.
Real-Time Location
Go to the Real-Time Location menu and you can see where your little one is right now, how much battery is left on his/her phone and when was the location last updated. This is mighty useful when your kid is living far from home or going to his/her friend's birthday party. You no longer need to keep asking your kid about his/her whereabouts.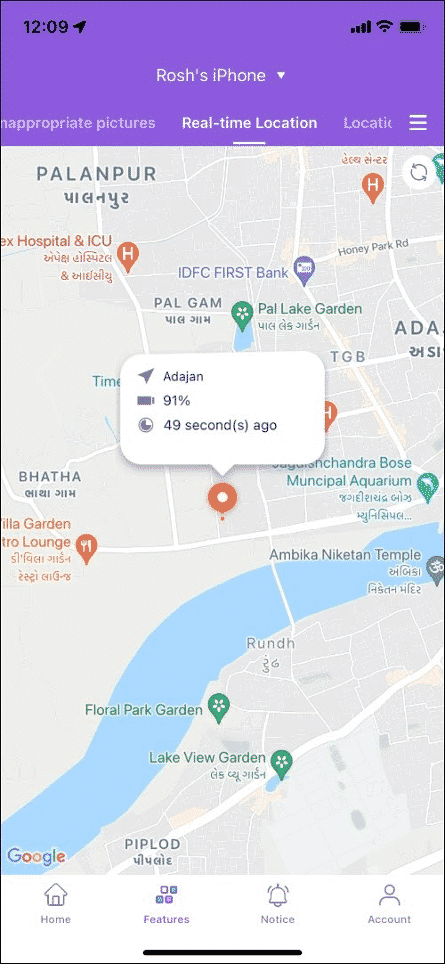 Move to Location History and can check a detailed location timeline as well.
Content Manage
Many times we have heard horror stories of kid's accidentally purchasing expensive in-app purchases on iPhone. FamiSafe takes care of such situations as well. Enable Block in-app purchase toggle from Content Manage toggle and restrict all purchases.
Geofence
FamiSafe allows parents to add a geofence and receive notifications when their kid enters or leaves the place.
That's not all. FamiSafe delivers a detailed driving report, allows you to check YouTube content consumption, and even blocks inappropriate pictures. FamiSafe has a built-in image recognition algorithm that will save your kid from inappropriate images.
FamiSafe Pricing and Cross-Platform Availability
FamiSafe is available on all major platforms such as iOS, Android, Windows, Mac, Chrome OS, and web.
The pricing starts at $10.99 per month. Users can get a good discount by opting for a yearly plan at $60.99. Do you prefer to pay quarterly? Be prepared to shell out $20.99 per quarter.
Conclusion
FamiSafe has nailed the parental control experience on iPhone and Android. We aren't surprised to see the app sitting at 4.5+ ratings on both the Google Play Store and App Store. Which parental control tools are you planning to use? Share your views in the comments below.