Lead-in Part
Time management is a soft skill that helps plan the given tasks based on the time one has to work. With time management skills, one can easily prioritize activities, ensure there are no delays, and work in a way that they get free time for themselves. Typically, with effective time management skills, individuals or even organizations can assign a specific time slot to activities and prioritize them as per their respective importance.
Some of the key elements of effective time management are:
Setting down reminders for all the activities
Working and then adhering to a daily planner
Prioritizing each task as per the deadline
Ensuring there are no distractions to processes
Following and sticking to a routine
Creating time management takes too much time as there are moments when one has to update the goals or modify the times. Additionally, creating time management planners can be a daunting process. As a result, most students or professionals create a mind map to make time management easier. By using a tool like EdrawMind, one can easily create a time management mind map that would be helpful in many ways, like:
A mind map is a visual tool helping the students outline the tasks or activities as per the priority.
A mind map improves cognitive abilities, ensuring the information can be retained longer.
With mind mapping, one can easily introduce multiple pieces of information in a manner that limits the measure of time.
Importance of Time Management
As the name suggests, time management helps you understand how to save time effectively by prioritizing important stuff. In a simpler way, time management helps avoid problems and delays in an overall process. Some of the benefits of creating time management for yourself or your organization are:
1. Reduce Stress:
When a child or a student learns to manage time according to the planned activities or goals, they will have a substantially low-stress level. Since all the tasks are allocated time, duration, and priority, there will not be any space to worry about the delay in submissions that could cause stress.
2. Rise in Productivity:
Once a student masters the art of time management, they tend to complete their task before the deadline, ensuring higher productivity from their end.
3. More free time:
With detailed time management, a student or a professional can learn about free time they can dedicate to themselves.
4. Goal Clarity:
Students can easily simplify their days by working on time management to organize what they need each day. This way, they will not have to waste their important hours worrying about activities they should be doing. Instead, they can easily focus on the things they should be doing.
How to Create Your Own Time Management Mind Map [Step-by-Step]
In order to create a time management time map, the very first thing a student or a professional individual should do is follow some effective time management tips, like:
Plan all goals correctly, and do not add unfeasible goals in the near vicinity.
It would be best if you prioritized the goals based on importance and urgency.
Ensure that in your time management mind map, you are setting the time limit to complete the tasks.
You should have an adequate tool to create your own time management mind map.
With the right mind map software, remove non-essential tasks or activities from your short-term or long-term goals.
Once you follow these tips, you should start planning to create your time management mind map using mind map software EdrawMind. Check out the following step-by-step methods that would get you started in creating your time management mind map.
1. Offline or Web:
This free mind map tool comes in both offline and online versions. Depending upon your needs, you can either download this software in your system or head to the online version that allows you to collaborate remotely with your team. In both cases, you will have to log in using your email address, which would help you save your mind maps to personal cloud storage that can later be accessed from anywhere. Once logged in to this mind mapping software, you will see how different mind map layouts are available on the homepage, like Radical Map, Tree Map, Fishbone Right, Timeline Mind Maps, Outliner, and more. Click on the mind map layouts to create from scratch.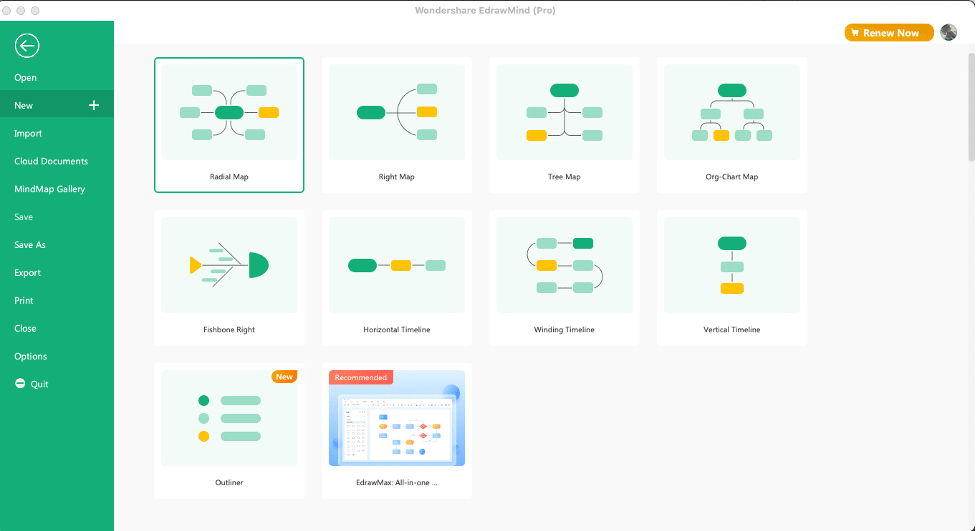 2. Templates:
If planning to access the pre-built templates, head to the 'MindMap Gallery' and look for 'Time Management.' Here you can access and later duplicate all the user-generated time management mind map templates, like Time Management Techniques, Time Management After Getting Off Work, Covey Time Management Matrix Mind Map, Time Management for Managers, and more. Click on any of these templates, followed by 'Duplicate' to instantly duplicate all the content of the time management template.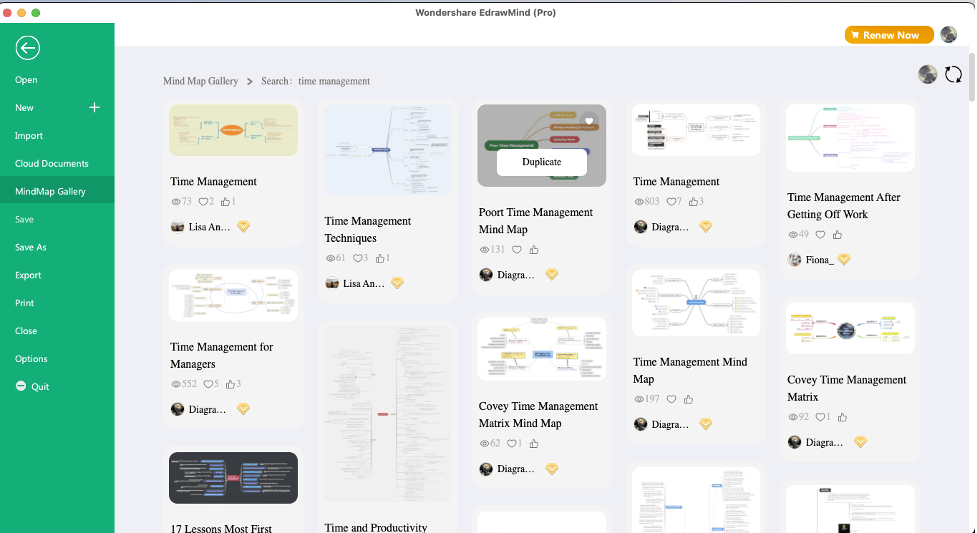 3. Work From Scratch:
A mind map starts with identifying the central idea and adding the subtopics as and where they are required. In this mind mapping software, you can create a time management mind map from scratch by adding the Main Theme and the respective Subtopics. At first, you should collect the thoughts accordingly and start adding them to the subtopics. With the connector feature, establish the relationship between topics and subtopics. With this free mind map software, you can further view your mind map as Gantt Chart and Outliner view, making it easy for the students to convert time management into a timeline mind map.
4. Customize Mind Map:
Once you have placed all the subtopics at the desired positions and connected them as per the requirements, you can start customizing them. With this free mind map maker, you can change the theme, layout, and connector style. Additionally, you can even change the shapes of the subtopics, change the line colors, update the line weight, apply rounded corners and dashes, and add dashed lines. In this mind-mapping software, you can further add cliparts, import images, change fonts, modify the branches, and work on different customization options.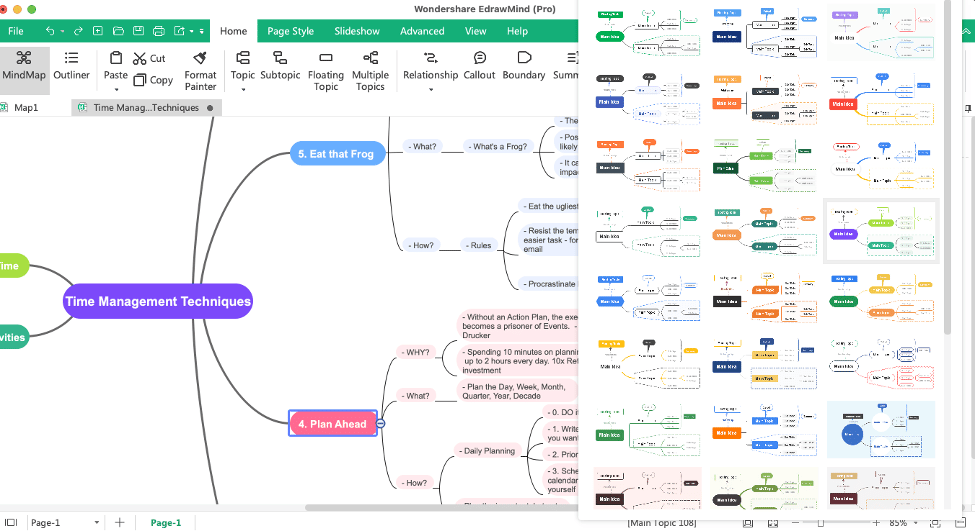 5. Export & Share:
Once you have done enough customizations to your time management mind map, you can share it with your friends, teachers, colleagues, or peers using the in-built sharing options. With this free mind map software, you can export the mind map to practical and helpful formats, like JPEG, PNG, SVG, MindManager, HTML, Office, and more. This free mind map software also lets you share your time management mind map on social media platforms like Facebook or Pinterest. With the in-built live option, you can present time management as a slide show.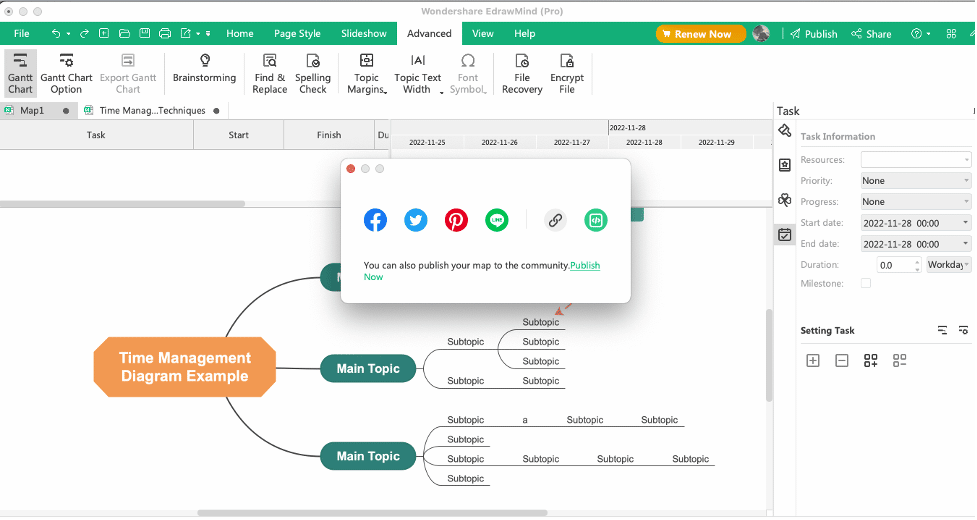 Final Thoughts
As you saw in this detailed guide to creating a time management mind map, time management is one of the crucial processes that help individuals and organizations to divide their time between multiple activities. When an individual creates a time management mind map, they should prioritize the activities as per the deadline and also give additional time to handle certain unexpected errors. Given the importance of time management, it is highly recommended to use EdrawMind to create the time management mind map. This free mind map software lets you create Gantt charts that come in handy when dealing with different activities. With this mind mapping tool, you can customize your time management mind map or even get real-time virtual collaboration with your team to analyze and track the status of any activity.