You learn more and more each day about how challenging it may be to operate a business. However, you have likely learned along the road that there are many resources available to assist you in efficiently managing it.
There are certain things that, until you have them, you don't even know you need. If you don't have a PDF editing tool, you're missing out on a great resource. There are several situations in which this program would be useful. So, in this article, we will review the UPDF which is among the best PDF editors in 2022.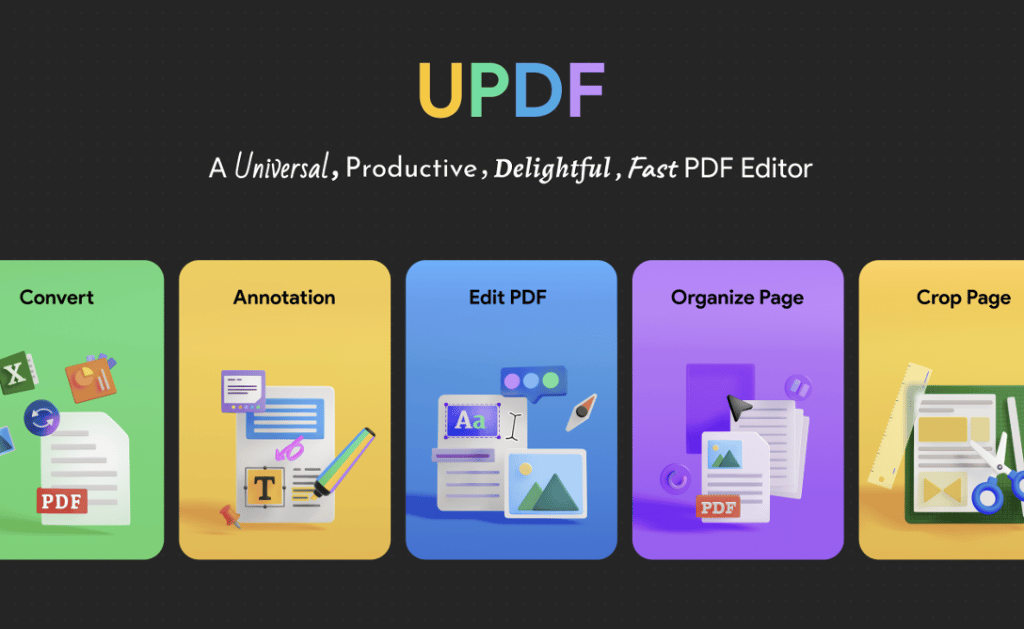 UPDF – Best PDF Editor in 2022
Superace Software's UPDF is one of the most feature-rich PDF editors available, with hundreds of customizable settings. UPDF makes it easy to resize, highlight, comment on, and export PDF files for use on any device.
You may increase your document productivity on any of the major platforms with the help of this program. Writing, reviewing, or signing documents on the go is now possible due to the availability across devices such as smartphones and desktops. It is compatible with Android, iOS, Windows, and macOS.
Now, let's take a look at some of the most powerful features of UPDF:
Robust Editing Features
You are able to edit PDF, change text, photos, and links in any PDF document thanks to the robust PDF editor that UPDF provides.
Simply clicking on a portion of text allows you to remove any content that is not required, as well as identify formatting, font type, font size, and other relevant information.
If your PDF document contains any photos, you can seek the assistance of UPDF to crop, extract, replace, and remove those images.
This includes setting up a preset width and height for the purpose of resizing your photos so that you do not have to exit the PDF editor to do this work in another application.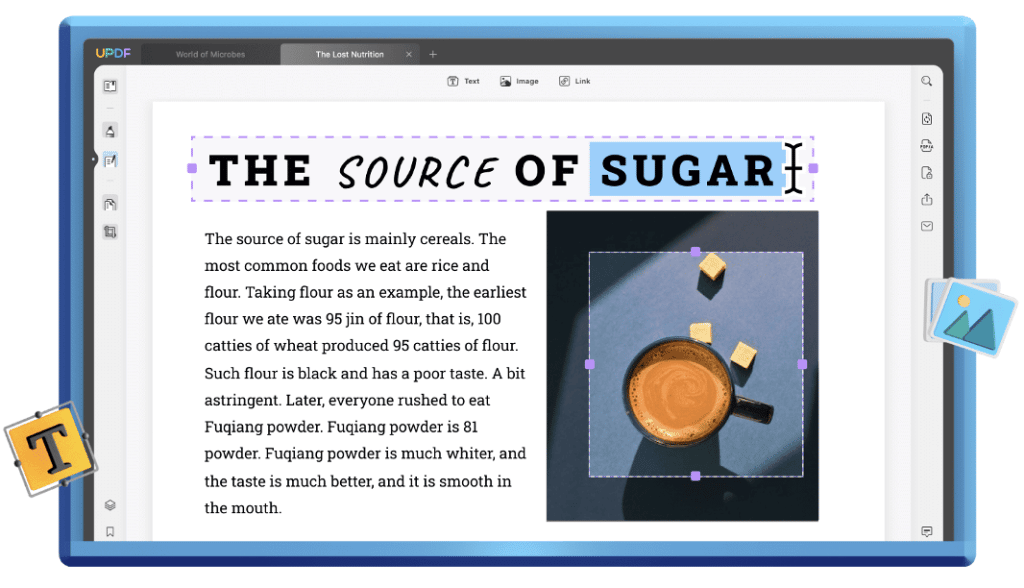 You can add a watermark to your PDF, in addition to the many other features that are available to you. You can easily add a watermark to your PDF document by selecting one of three options: text, an image, or a PDF.
You are able to add a header and footer to your PDF file that are completely personalized due to the "Header & Footer" feature. It gives you the option to select from six alternative styles, increasing the likelihood that you will find a header and footer style that is suitable for your requirements.
Advanced OCR Feature
UPDF is able to convert scanned PDFs to any other format in a manner that is not only speedy but also accurate since it makes use of optical character recognition or OCR.
It is possible to convert PDF files to a wide range of formats that are supported by Microsoft Office, as well as pictures, HTML, Text, and other file types, using any one of more than a dozen various conversion options that are now accessible.
Accurate PDF Conversion
You can convert a PDF to Word, PowerPoint, Excel, Comma Separated Values (CSV), JPG, Text, XML, and PNG files by using the UPDF PDF converter. In addition to that, it has a built-in OCR reader and scanner, which allows scanned PDFs to be converted into formats that can be edited, and it is compatible with 23 languages.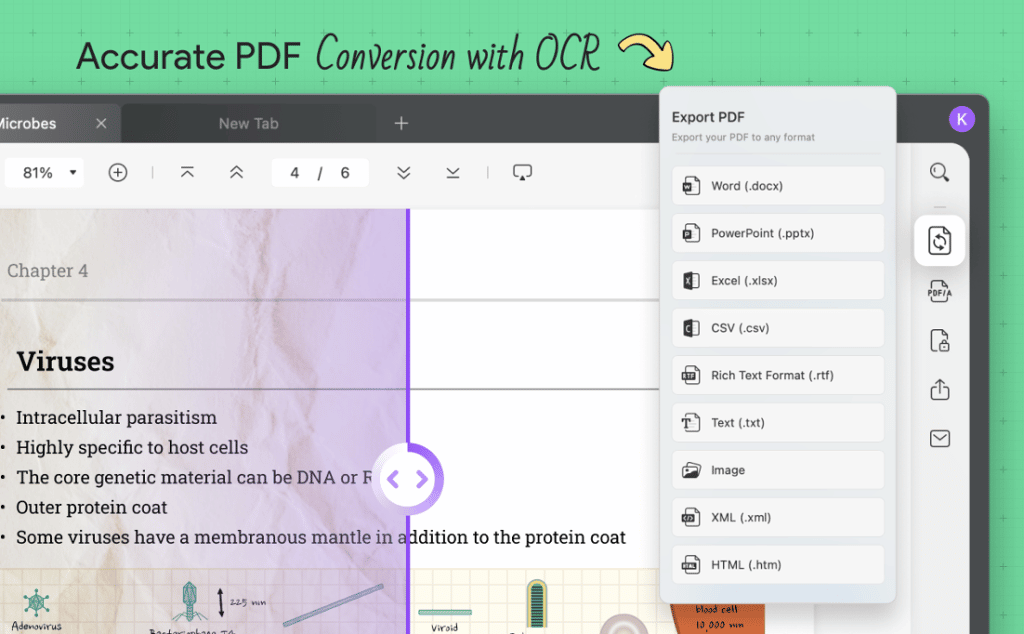 Powerful PDF Annotation Feature
UPDF is a powerful tool for annotating PDF files. The PDF annotator tool that we're going to talk about here allows you to add highlights and underlining to PDF documents.
It is created with the convenience of its users in mind, including features such as an intuitive interface and straightforward navigation. PDF pages may be easily edited, annotated, converted, OCR'd, protected, and organized using this program at your disposal.
In addition to that, it is compatible with a wide variety of other PDF annotation tools, including strikethrough, addition of sticky notes, text boxes, stamps, stickers, and various shapes.
Using the pencil tool, it is also possible to draw on PDF documents. An enjoyable experience awaits you when you use this application to make annotations on PDF documents.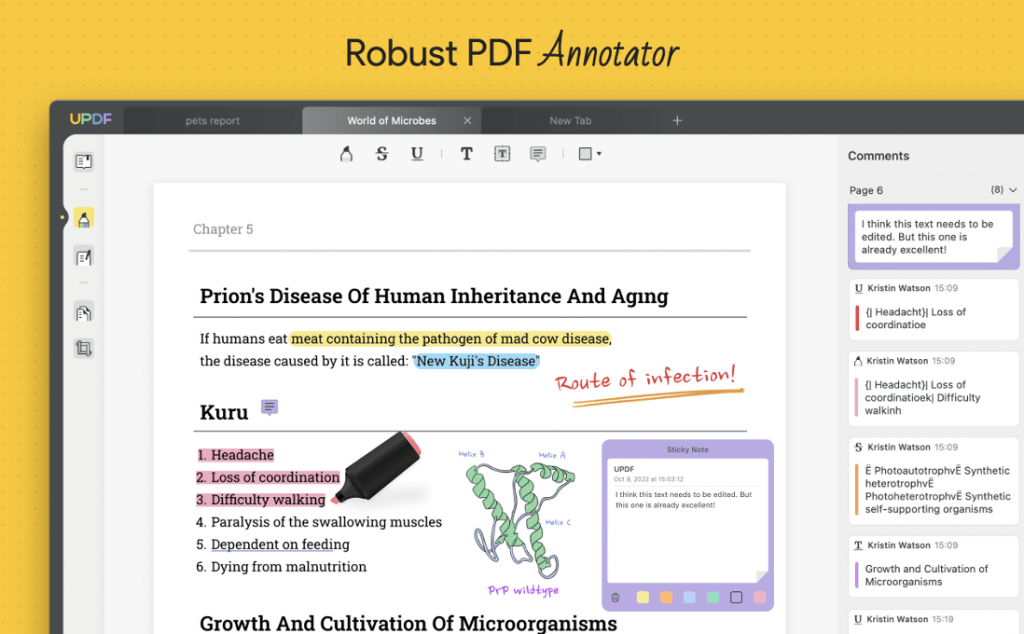 Pros of UPDF
This top-of-the-line editing tool can provide you with an efficient and engaging place to work thanks to the functionality offered by this cutting-edge program, which ranks among the best in the globe.
UPDF is often regarded as the superior of all PDF editors since it is built with cutting-edge components that give you complete control over the editing process. As a result, UPDF is sometimes referred to as the "cherry on top" of all PDF editors.
The following are some of the benefits of using UPDF for your PDF needs:
UPDF Availability
UPDF offers a free basic version that may be used on devices running macOS, Windows, Android, and iOS (iPad and iPhone).
The User Interface (UI) Design
To our knowledge, only a few PDF editors have user interface designs that are as polished as this one. The process of working in UPDF is not just easy on the eyes but also does not seem overbearing or repetitive.
Fast Performance
UPDF is a PDF editor that is reliable, stable, and quick to use. It opens PDF files at lightning-fast speeds, responds immediately to whatever commands you issue, and provides a lag-free user experience overall.
Affordable and Same Pricing for All Devices
When you make a purchase of UPDF, you are granted access to the application across all operating systems, including Windows, macOS, iOS, and Android. You don't have to buy each software separately for different devices or operating systems.
Conclusion
Finding a free and best PDF editor is not easy. But you don't have to look for it. UPDF is the best PDF editor that offers a basic free PDF editor and a premium version at highly affordable pricing.
So, why spend hundreds of dollars on other PDF editors, when you have a cost-effective alternative available in form of UPDF. Download UPDF today to experience the best editing and many other features.